By Rejimon Punchayil
That's what Geoff got literally and figuratively this spring. Although he realised the need for a walking aid to improve his mobility, he put off the decision as he could not find a suitable one.
That is when he met Doug with a carbon fibre walker with a seat, backrest and bag, weighing no more than five kilos!
Functionality and aesthetics combined in one. Geoff needed no convincing. If you have not found that spring in your step, find one this spring!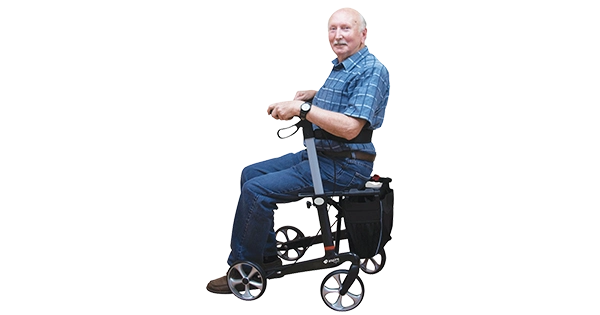 This is a season of freshness, new life, and hope! As we welcome spring let us examine what we can do with a renewed dedication that will have a positive impact on our health and wellbeing, despite all the negativity happening around us.
Spring is a great season to resume some of the good habits we left behind, like going for a walk, following the local rules. It's not too hot, not too cold.
Mobility is such an important aspect of our everyday life. Mobility promotes not only our social and emotional wellbeing, it plays a vital role in our physical wellbeing, functioning of our critical internal organs.
Spring is a season to think about your more long-term mobility needs. Are you going to surrender your independence because of the loss of your driving licence or your inability to drive due to a physical condition or development?
Being mobile is one sure way of retaining your independence. A mobility scooter is a great option.
---
Come and discover, as Geoff did, a range of fashionable, trendy and functional solutions for independence, dignity and mobility at www.comfortdiscovered.com