Technology surrounds us in our daily lives in almost everything we do. It has influenced the way in which we communicate, share information and complete our daily tasks. Seniors
On average, Australians have around 17 connected devices in their homes and this figure is expected to rise dramatically over the next four years.
Supporting and protecting senior members of the community from online threats is an important focus for the Australian Government.
Don't let the words 'Cyber Security' concern you. Follow these tips to be safe online:
1. STRONG AND UNIQUE PASSWORDS
Your passwords shouldn't be easy for someone to guess so don't include your name or anything identifiable to you. Use a password which is at least 8 characters (although 12 characters are now recommended) with upper and lower case letters as well as symbols.
2. USE SECURITY AND PRIVACY SETTINGS
Make sure you secure all your devices with a password or code so no-one else can access them. Check your internet browser setting and install anti-virus software. If you don't know how to do this ask a family member to help you or speak to your Care Worker.
3. SHARE WITH CARE
Never provide your address or financial information to anyone you chat to online and only enter your credit card details on secure and reputable websites. If you are on social media use their privacy controls. Facebook has extensive privacy setting whereas others are a bit less sophisticated with only a choice between public and private.
4. KEEP YOUR SOFTWARE UP-TO-DATE
This is important as most software has security features that may lapse over time.
5. ALWAYS STOP AND THINK
Think before you click on any links or open email attachments. If it doesn't look normal don't click on it – you won't be missing out. It's easy to feel panic when faced with an urgent request so wait and get a second opinion. NEVER give out your passwords.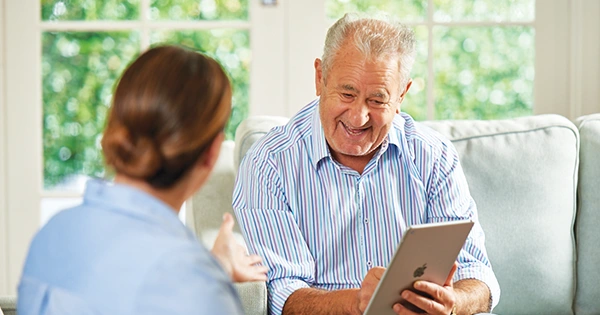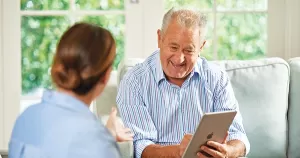 6. LOG OUT
After using your device be sure to log out!
Catholic Healthcare will soon be opening MacKillop House, 2 Firewheel Place, cnr MacKillop Drive, Norwest.
The new Residential Aged Care Home also incorporates a Wellness Centre offering health and wellness programs, morning teas and other social activities for seniors who are still living in their own home.
Should you or your loved one need more specialised care, we invite you to be one of the first to tour MacKillop House before it opens.
BE AWARE OF PHONE SCAMS
Australians lose millions of dollars to scammers every year and over a third of this money is lost by people aged 55 and above. And these are just the reported figures.
Scammers use all types of sneaky tactics to trick you into parting with your money, but knowing what to look out for can help you to spot the signs. Information on scams and how to report them can be done via the Australian Competition and Consumer Commission's website 'Scamwatch' at www.scamwatch.gov.au
---
Call Jenny Thomas on 1300 169 949. https://www.catholichealthcare.com.au