Catholic Healthcare's newest Residential Aged Care Home, MacKillop House, has had its stained glass window feature installed in the Home's chapel. MacKillop House is located in Norwest (north-west Sydney) and is due open to residents in late 2021.
The stunning stained glass window feature represents the Pentecost, commemorating the descent of the Holy Spirit upon the Apostles and other followers of Jesus Christ while they were in Jerusalem celebrating the Feast of Weeks.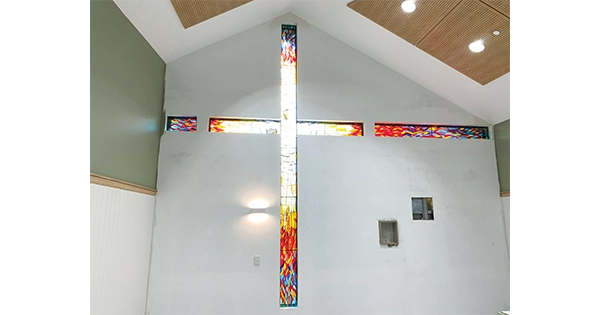 Designed and produced by Stacey Hall, of Indigo Stained Glass, the cross is an impressive addition to the chapel at MacKillop House. Indigo Stained Glass is an architectural stained glass company in Sydney that specialises in creating individually designed and hand-crafted designs for residential, commercial and eclectic projects.
The Property team at Catholic Healthcare provided Stacey with four design ideas for the stained glass feature. The final design was selected based on its aesthetic suitability for the existing colour scheme at MacKillop House. The intricate cross depicts a vivid explosion of light and its centre symbolises the descending of the Holy Spirit to the Apostles. The 'tongues of fire', which are also a feature of the Pentecost, flow out over the earth from the light. Hall specifically used blue and turquoise hues to represent the sea and greens to represent the earth and the far-reaching nature of the Holy Spirit.
The entire process for design, drawing to scale and production of the window took approximately six weeks.
"There were 11 individual sections that were stacked together to produce the final artwork", says Stacey.
This was Stacey's second 'cross' design for Catholic Healthcare, with the first being for Holy Spirit, Casula at the end of 2020, and her fourth commissioning project for us. Stacey is originally from the United Kingdom where she trained as a stained glass artist and has been living in Australia since 2003.
For more information on Indigo Stained Glass https://www.indigostainedglass.com.au/
WE'RE TAKING EXPRESSIONS OF INTEREST
MacKillop House Residential Aged Care Home is due to open in late 2021. Stylish, modern and architecturally designed, the Home features private bedrooms with ensuites and a dedicated Memory Support Wing for residents living with dementia. The amenities will include a barbeque area, chapel, hair salon, gym and café. It will offer a complete range of permanent, respite and palliative care options.
Should you or your loved one become unable to stay living independently at home and are in need of more specialised care, we invite you to be one of the first to tour Catholic Healthcare's new Residential Aged Care Home, MacKillop House, located at 2 Firewheel Place, cnr MacKillop Drive, Norwest.
Call Jenny Thomas on 1300 169 949.