At the beginning of 2020 once Covid started affecting us, like everybody, we began to question what would happen to our art business.
Who would have thought that art sales would actually increase during a pandemic?
Because our business was going so well locally and internationally and has now been established for 5 years, we took the opportunity to enter the Local Business awards. We try to support local businesses whenever possible and to be recognised as a leader in our selected category is such a wonderful opportunity.
By no means did we have ANY expectations. Part of the judging process is gaining votes from your customers, a mystery shopper, and a judging panel. We are ever so grateful for the votes we received from our supportive network of art lovers and collectors. Every customer who comes to our home gallery gets treated like family and this is extremely important to us. Buying art is very personal and I do what I do because I love to bring joy into people's lives and homes.
To discover we were a finalist was incredible and then to have out name called on the event night was such a buzz.
Due to Covid restrictions the event was much smaller than usual but still was fabulous food, entertainment, and great company at our table.
We are very grateful to the event sponsors and organisers who continuously support local businesses and are totally honoured to be awarded Local Business Award in 2020.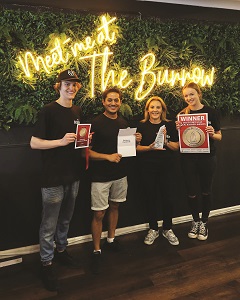 Winner 'Most Outstanding Cafe'
The Burrow Cherrybrook
The Burrow Cherrybrook Owner Operator Christine Camilleri was extremely thrilled yet humbled by winning this award.
I truly feel like we've won an Oscar. To have our small community café and staff recognised by this award was both amazing and extremely unexpected. There were 84 cafes in this category and with the high standard of cafes in the Hills District we will honour this award with pride and gratitude. We would like to thank our staff who not only create magnificent food and beverages but also create the unique "Burrow" vibe and sense of family! We would especially like to thank the local Cherrybrook community and surrounds for their unwavering support this year, without whom we would not be in this position today. We have all faced huge challenges over this past 12 months and if The Burrow could do nothing else but provide somewhere for people to escape the confines of their homes and walk to for a coffee or a well earned passionfruit mojito then we've done our job! We would like to share this award with the Cherrybrook community and say THANK YOU for being a part of our extended family.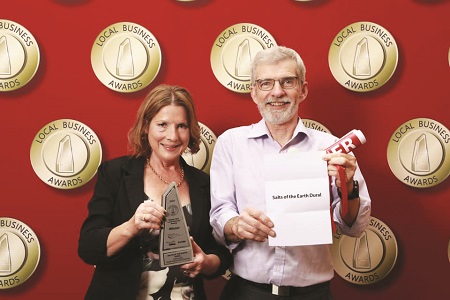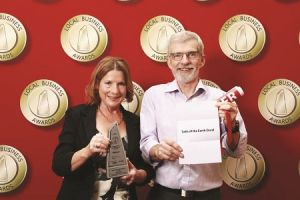 Winner 'Outstanding Health Improvement Service'
Salts of the Earth Dural
On 19th October, Salts of the Earth Dural received the Sydney Hills Local Business award for Outstanding Health Improvement services in 2020.
Starting in the Hills District in 2016, it has been a long and interesting journey. Buying a Salt Therapy franchise came from a chance reading about Salts of the Earth in an airline magazine. We had considered many other franchises, but this opportunity to do something new (in Australia) and health-based was too good to miss.
Although it's been around in Eastern Europe for centuries, Salt Therapy is relatively unknown in Australia.
A site was chosen in Dural – a commercial unit 'behind Maccas and KFC at the big roundabout'. The unit was previously used as a shoe warehouse, and it was time to replace the dust with salt and the 'sole' with 'soul'.
After the setup was completed, the brand new Salts of the Earth Dural opened its doors in July 2016. Since then, there have been many visitors experiencing the clean, healthy dry salt air. Being declared a finalist in the Health Improvement category was very exciting, and being announced, the winner was just incredible. Thanks go to the tireless efforts of management and staff, and the support of wonderful clients who made it possible to achieve this outcome."