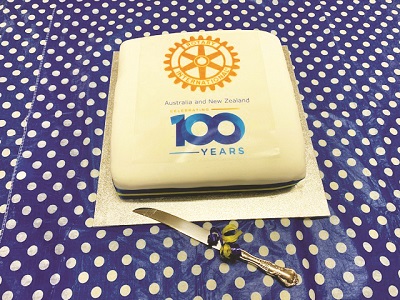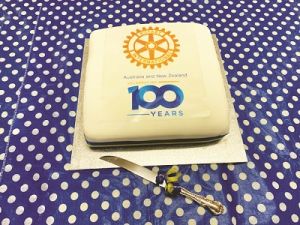 The Rotary Club of West Pennant Hills and Cherrybrook celebrated the Centenary of Rotary (R100 Celebration) in Australia , New Zealand and the Pacific by unveiling a commemorative plaque in the Rotary garden near the Rural Fire Service in Macquarie Drive, Cherrybrook. The Hornsby Shire Mayor, Mr Philip Ruddock assisted with the unveiling of the plaque together with the club President Mrs Rosemary Clarke. Representatives including the RFS and Girl Guides planted shrubs together with the Mayor and Rotary's District Governor, Mr David Clark.
After the event, afternoon tea was served in the guide hall where David Clark and Rosemary Clarke cut the R100 celebration cake.
In February 1921, two special commissioners were appointed to introduce Rotary to Australia and New Zealand. They were Canadians James Davidson of Calgary and Layton Ralston of Halifax. They travelled by ship of course so it was a real expedition. In Melbourne, Vic, they met Sir John Monash, administrator of the Victorian State Electricity Development Authority. One of Australia's most famous war heroes, Sir John agreed to accept charter membership of the proposed Rotary club, became its second president, and remained involved at club and district level. The Melbourne Club was the first to be chartered on April 21, 1921, 100 years ago this coming Wednesday! Hence the date on our plaque.
Further clubs were chartered in Sydney, Wellington and Auckland soon after.
It was a privilege to celebrate this wonderful occasion.
THANK YOU
What a wonderful occasion it has been. Thank you to DG David Clark and the Hornsby Shire Mayor Mr Philip Ruddock for your kind words.
Thank you to all our tree planters. Thank you to the Hornsby Shire council nursery for providing many plants for the occasion and the Rotarians who further enhanced the garden.
Thank you to our wonderful MC Barry Freeman. It has been lovely to have you here from the Central Coast. Barry was the President when the Century of Rotary in the world was celebrated in 2005 – refer to the other rock.
Thank you to the Girl Guides for opening their hall for us, thank you to the R100 organising committee with special thanks to Colin Sharpe for organising and installing the plaque, thank you to the partners for providing lovely cakes and slices for afternoon tea and thank you all for attending. We hope you have enjoyed this special event.
R100 Celebration, R100 Celebration