Westleigh Village is a vibrant local shopping centre located less than 5 minutes from Pennant Hills Road – take the Duffy Avenue exit and go straight ahead!
Let's focus on the incredible Medical Options available at Westleigh Village! All offer exceptional professional and personal care every time!
Westleigh Village Medical Practice combined with Westleigh Podiatry & Laverty Pathology are a firm favourite for locals. Under the exceptional leadership from Dr Pandey, the wonderful Doctors offer a caring, holistic approach. They are now also taking bookings for COVID-19 vaccinations. Check the website for details.
Westleigh Chiropractic has been promoting health and wellbeing since 1983. Dr Peter Cowie was awarded an OAM in 2018 for his service to the chiropractic profession.
With over 30 years of experience, resident Pharmacists David and Margaret Wood offer friendly personal service at Westleigh Pharmacy Chemsav.
State of the Art [email protected] is a firm local favourite for all ages. Dr Aldrin Bautista offers outstanding oral health for all patients in a wonderful modern practice.
Come and discover Westleigh Village, where you will experience a local community like no other, and you'll understand why the locals never want to leave Westleigh. www.westleighvillage.com.au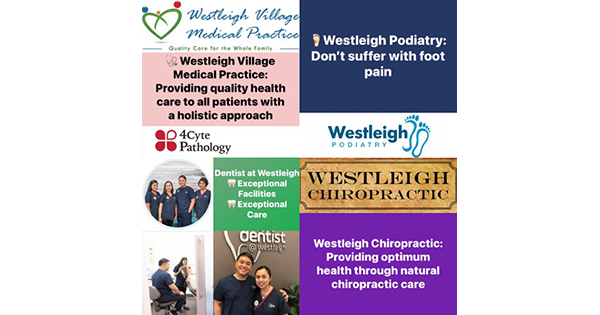 Medical Options, Medical Options, Medical Options