By Neville Hansen
The Club has a couple of exciting events coming up early this year and has been busy.
The Rotary Club has participated in Community Gardening and has been out collecting donations for Flood Relief. The Club would like to thank everyone who donated.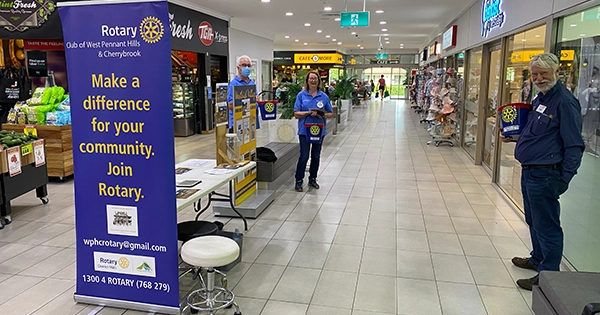 On Monday 11th April the Club will be having a Visitor Night. Our Guest Speaker for the evening will enlighten you a little on what Rotary is all about, and the amazing work locally and internationally that Rotary does.
We would like to welcome active businessmen and women to our club as well as those recently retired. Rotary is a great medium to meet new members of the community, to make new friends, enjoy social outings and to engage with community projects Rotary undertaken.
The Annual Giant Book Sale is building momentum and is scheduled for 13th (9am to 5pm), 14th (9am to 5pm) and 15th (11am to 2pm) May at Cherrybrook Uniting Church, 134 New Line Road, Cherrybrook.
The Club will start collecting books at the start of April and you can start calling the Club on 0468 330 667 from the 1st April for book drop off locations.
Please continue to follow the Club's Facebook page and Web site for more information plus you can start getting your books ready for drop off. Ideally the Club will be after books preferably less than 10 years old and in good condition.
If you would like to just come along and see what we are all about then please give us a call on 0412 064 336.or visit www.wphcrotary.org/