BY SUSAN WILSON
After the year 2021 has been, it's the little things you come to appreciate. For the Combined Probus Club of Cherrybrook, it was evident that getting together was one of these things.
Our November Meeting at the Madison Function Centre, Dural, was full of fun in no small measure to the contribution of our talented guest speaker and entertainer Roland Storm. It is always a delight to hear Roland's stories from the early days of television and Rock'n'Roll and reminisce with the songs of our youth.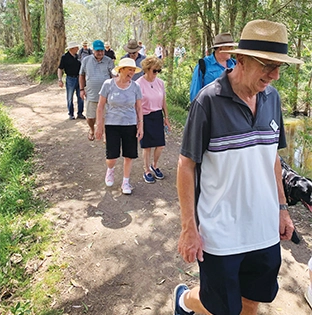 However, this was only the beginning of the fun. We have also enjoyed two exhilarating and very well attended walks, one to Nurragingy Reserve at Doonside and a second at the Brickpit, Sydney Olympic Park, a social drive to the Central Coast, a lovely cruise on the Nepean Belle and finally made it to the theatre to see 'Come From Away'. We are looking forward to a long awaited short break to Mudgee and an educational tour of the Ku-ring-gai Wildflower Garden to round out the month.
If you are an able bodied, semi-retired or retired couple and have promised yourselves to get out, meet new people and have new experiences, the Combined Probus Club of Cherrybrook could be for you.
Our meetings are usually held at the Cherrybrook Community and Cultural Centre on the first Thursday of the month, and we anticipate our return there shortly. For up to date information please contact Ross on 0411 104 863. We look forward to warmly welcoming you to our Probus Club to share the good times