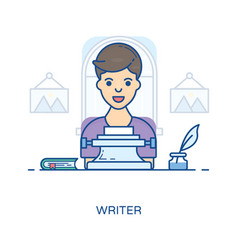 Canoelands Orchards A family affair.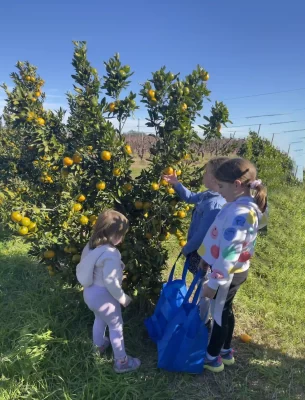 Canoelands Orchards has been in the Christie family for almost years, passed down from generation to generation with the land continuing to be farmed by the family.
What started off as a citrus fruit orchard has grown over the years to include blueberries, strawberries, nectarines, peaches, plums, pomegranate, tomatoes, apples and eggplant. It is currently run by Jaime and Nathan Christie assisted by their parents, siblings and their own children.
Canoelands Orchards is a working farm open to the public and attracts people across the region and even internationally with tourists also paying a visit to see how farming is done here in Australia. It offers the chance to pick your own seasonal fruit from the orchards, get up close and personal with farm animals including pigs, sheep, alpacas, cows, goats, horses and of course farm dogs and to learn about bees and how honey is produced.
For us it was an opportunity for a wonderful family day out but also a chance to show our daughters where food actually comes.
We enjoyed walking through the Orchards picking fresh lemons, mandarins and tomatoes to take home. The animals, especially the pigs, were entertaining as they grunted and searched for food. However, the highlight of the day for our daughters was the very bumpy tractor ride around the Orchards not to mention playing in the little playground and sandpit.
On site is also a café, a picnic area and a shop where you can purchase raw honey produced on site as well as chutneys, jams and souvenirs. High teas and grazing boxes can also be arranged.
The staff and owners are incredibly friendly and keen to share their passion for farming with the visitors. For Jaime Christie, the thing she loves most about her business is the people that visit, hearing their stories and seeing the joy in people's faces as they taste the fresh fruit from the trees.
John "Pa" Christie, Jaime's father-in-law who is also known as "Mr have a chat" also loves talking to the people who visit and learning why they have chosen to visit Canoe Orchards.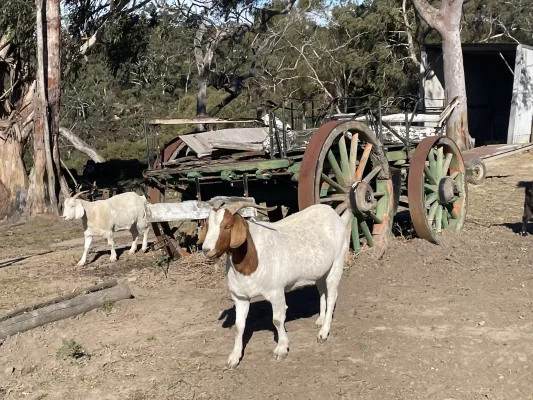 A visit to the Orchards is a real eye-opener to the challenges our farmers face. When asked "what are the biggest challenges in running the Orchards", Jaime will quickly tell you the uncertainty in the weather and the impact it has on the crops. The market also presents difficulties often with a crop producing little income or even a loss at times highlighting the importance of the "pick your own fruit" component of the business to stay afloat.
Currently, the NSW Government is proposing legislation to limit the number of visitors to "pick your own farms" which if approved would potentially decimate working farms such as this one.
Canoelands Orchards showcases locally grown produce, employs local young people and provides an opportunity for the public to engage in farm life. We can't wait to return to pick fresh strawberries very soon and to support a local farming business