Oakhill College is thrilled to announce FDC as the builders for our highly anticipated Innovation Hub.
FDC Builders have extensive experience in the construction industry, combining a unique multi-disciplinary approach and knowledge which will bring a wealth of expertise to our Master Plan.
Phase 1 of the construction is underway with the preparation of the site commencing mid-August, allowing us to reach our planned completion date of October 2022. Early September we were able to 'turn the first sod' onsite for our project.
Careful planning and development from the Oakhill College Planning Committee (Board, Senior Leadership Team and planning committee), in conjunction with BVN Architects, MostynCooper, Urbis and FDC Builders has ensured that the Innovation Hub will offer not only extensive modern physical spaces for staff and students.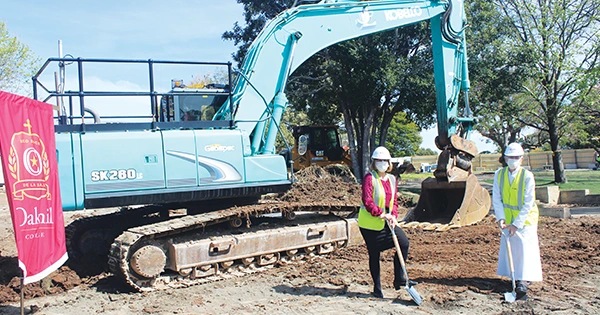 but also a stimulating environment to encourage collaborative learning, ensuring our continued best educational outcomes into the future. The Innovation Hub design is consciously oriented towards the heart of the campus, following the current landscape and continuing the flow onto our Hilltop Precinct, encompassing the newly planned additional open, green spaces for our College.
Oakhill College is fortunate to have secured a grant from the NSW Government to assist with this ambitious infrastructure project. This first stage in our Master Plan confirms Oakhill College's commitment to building for the future of our College community.