By Craig Hingston - Pacific Hills Christian School
The OneMaker Academy at Dural is continuing its record of outstanding competition performances, having great success in the Dance Life Unite Sydney regionals. Every dance troupe and solo dancer qualified for the National Finals in January, with all of the small groups receiving 1st place in their categories and all groups scoring over 90.
The driving force behind these achievements is the Head of Dance, Ashley Brown and the great OneMaker Dance Teachers.
"In 2019 one of our teams came first at Dance Life Unite Nationals and another came third. Seeing all of our teams make it through to Nationals again this year is an indication to us of how far they have come despite the restrictions of a COVID year."
The performing arts academy, on the grounds of Pacific Hills Christian School, had already scored well at two previous major events in 2020.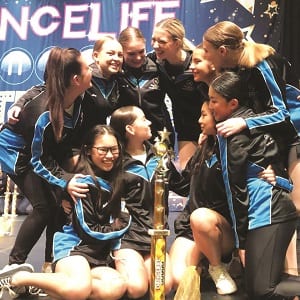 "Because of COVID we had many virtual classes and competitions this year. We sent in videos of our dances with costumes, stage lighting and sound tracks. Everybody Sing And Dance Now was a national event that was new to us and even though we were up against schools from across the nation each of our groups placed in their sections! We recently went to our first live competition for the year, Time To Shine, where we were up against some of the best dance studios in Sydney. I am so proud of our dancers, they all performed so well and two of our Company groups, and many of our soloists placed in their sections! It was great to see them on stage at a live event again."
Miss Ashley, as she is known to the students, started dancing at the age of three and was competing by eight. In her Middle and Senior School years, she spent her summers training at the best studios in Los Angeles and New York. Then at 18 she made the trek from Colorado to New York City to pursue a full-time dance career. This led to roles in shows and becoming an assistant to a Broadway Choreographer before the decision was made to move to Australia. Ashley joined the OneMaker team teaching dance in 2014 and the rest, as they say, is history.
She has enjoyed a number of highlights leading up to 2020 including OneMaker coming first at the prestigious Sydney Dance of Champions in 2017, having her students perform at the Opera House, taking a group of students overseas to train in Los Angeles and New York, and having two of their Year 12 dancers decide they want to pursue dance careers, getting accepted to Full-time programs with Ettingshausen's and Ev & Bow next year. Her goals for the future include entering students in international competitions and giving her students more opportunities to make a difference in their community & beyond through dance.