Murri-Yanna Track


BY LACHLAN TURNER
Starting from a community playground at Richard Webb Reserve in Aiken Road, West Pennant Hills, this downhill track follows Darling Mills Creek for approximately 5 klms to Hazel Ryan Reserve off Whitbread Place, North Rocks. This is not a loop track which means that transport is required at the destination end, unless you are prepared for the return walk to your starting point.
The downhill direction is arguably the easiest in which to enjoy what this track has to offer. Some sections of the lower track may be hard to discern, but a number of arrow posts are located along the way.
Passing through Bidjigal Reserve for much of its length, the walker will encounter a full range of bushland environments and experiences. Towering cliffs, overhanging rocks, tall trees, abundant wildflowers, meandering watercourses, with some creek crossings, and a small waterfall, are just a few of what will be encountered on the walk.
Other tracks within the Reserve share the Murri-Yanna Track for parts of its length. These other tracks intersect at various points as they head off into other sections of this generally unspoiled Reserve.
Shortly after passing under both Renown Road and the M2 Motorway, the walker is confronted with a tall concrete structure built to aid in the control of floodwaters impacting the lower reaches of the Darling Mills Creek at North Parramatta. Access to proceed past this "obstacle" is through a short tunnel in its base.
There are no facilities along the track so any supplies will need to be taken with you. A booklet, produced by the author, outlining the "Tracks and Trails of Bidjigal Reserve" can be viewed by typing the following web address into your browser – http://online.fliphtml5.com/awdd/aofv/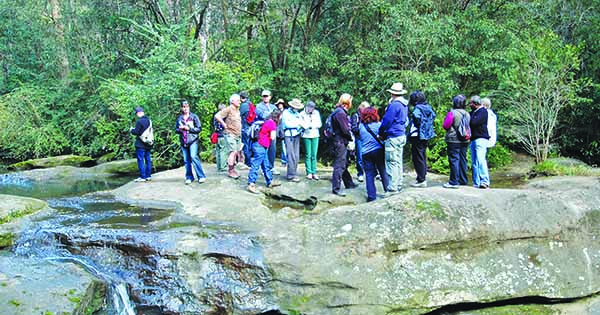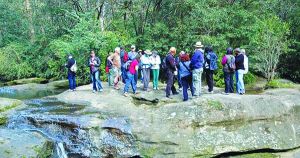 Murri-Yanna Track, Murri-Yanna Track, Murri-Yanna Track