By Lachlan Turner
Bush tracks can take the bushwalker through a variety of landscapes and vegetation. One such track, which is in reality a fire trail, starts and ends at the end of Murray Park Rd Kenthurst. This track is hardly hidden but the diversity of native flora that can be "discovered", certainly in many cases, is hidden from the view of the casual walker.
At most times of the year the walker can be rewarded in finding a wide variety of wildflowers both large and small, along the fringes of the track. The track passes through ridge top landscapes of open forest and heathland scrub, to a spot where there are views over adjacent forested valleys and slopes.
There is a relatively steep descent into one of these valleys which supports an extensive regrowth forest of towering Blue Gums.
The track then follows Blue Gum Creek upstream a short distance before ascending a reasonably steep hillside to the ridge top plateau.
When walking slowly and quietly through this area it is possible to sight many birds, some that are not usually visible in built up areas, as this is their preferred habitat.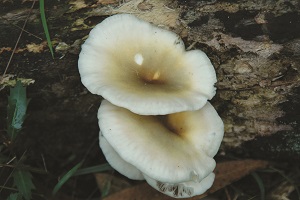 Depending on the pace chosen to walk, it may take up to two hours to complete. Remember to take your camera as there is always the opportunity to capture something memorable.
If you are not a frequent bushwalker accustomed to being out in this environment there are some points of advice to consider when you venture out into bushland. Adequate strong footwear is essential, so too is a hat. If going out for an extended time always take some water and maybe a snack bar or two.
Additionally, the Community Environment Centre in Currie Ave., at Annangrove has two short, free self-guided bushwalks adjacent to the Centre.