By Sonja Cameron
Spring in the nursery industry is always busy, during COVID, with everyone at home, it has been even more spring fever than usual. Our nursery, Cameron's Nursery, is located in Arcadia, employs 30 staff, growing quality perennials and groundcovers predominately for the retail sector.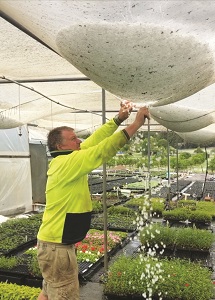 Sunday the 18th October was like any other spring Sunday, my husband and daughter do deliveries in the morning and the three of us were preparing for the Monday rush in the afternoon. We noticed the storm brewing, and then the thunder started, we pulled our tools in and headed into the office. At 4.24 pm, the wind and hail started, we stood in silence, watching the white balls of hail bounce. The hail just kept on pounding with it now starting to build up. It looked like it had been snowing. Fifteen long minutes later, the hail stopped. Primary producers are no stranger to natural disasters; we all know the unfortunate outcome if your business is the unlucky one.
Our first thought was to head to our shade house and igloos. The weight of the hail was pulling at the structure as large amounts had collected in multiple sections in slings. Our son had also come to help as we started to slice the shade house roof open where the hail had gathered—clearing space below so we could save our young plants. Great big mounds of hail fell through the gap, and we moved onto the next section and the next. Slicing the shade house opens seems destructive, but this saves the structure, irrigation and the stock beneath. Neighbours arrived, looking in amazement as the carnage became apparent.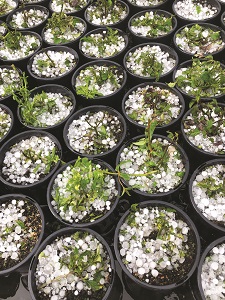 As we walked through the outdoor stock, we saw all the plants which had been shredded, broken and bruised. The sheer disbelief of what just occurred, during our busiest trading month, was devastating. Even worse was we were fully insured for hail until 30th June, when our insurer decided to no longer offer hail cover. Our business had been paying higher premiums for years to protect our business, just as we needed this cover, it no longer is available.
As leaders, it was up to us to have a strategy before the staff attended work on Monday. Giving staff direction and purpose is a critical role, with a meeting to start the day. It is incredible how tragic circumstances bring out the best in people, and the outputs from our team in the past two weeks have been a tribute to their resilience. Colleges, competitors, customers and suppliers have called offering their assistance. We truly are blessed to have such support.
We are not the only horticultural business to have suffered in this widespread hail storm. There are numerous other nurseries, orchards, cut flower and vegetable growers all suffering immeasurable damage which in turn affects the local economy and viability of some businesses in the Arcadia and Glenorie areas.