BY C.BARTON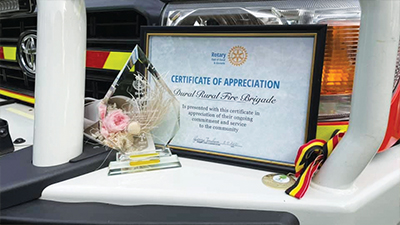 WINTER SAFETY TIPS
Winter is no longer coming; winter is well and truly here. With the chilly weather around it is important to stay safe indoors with the use of heaters, electrical blankets, and fireplaces. Fire Service Fire Service
Experience shows that there can be up to a 10% increase in home fires during the cooler months. Check out winter safety tips on www.fire.nsw.gov.au/winter to stay safe while keeping your family warm. Remember that only working smoke alarms work. Test your alarms and change the battery as required.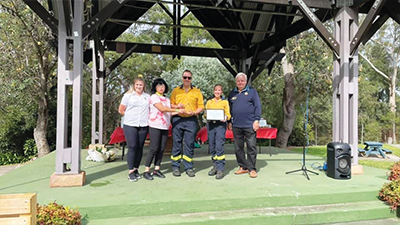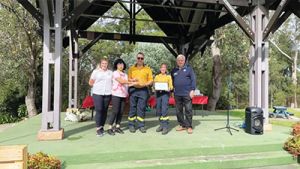 DOORAL EARLY LEARNING CENTRE'S WALK
Dural along with other local RFS Brigades was invited to attend Dooral Early Learning Centre's Walk for the RFS on Sunday 2 May 2021.
Brigade members from Dural and a number of other local brigades, along with the Dooral Early Learning Centre families, staff and children walked 3 kilometres at John Benyon Rotary Park in Kenthurst. Dural has presented a donation and some beautiful artworks at a Ceremony held by the children from the Dooral Early Learning Centre.
A THANKS TO FIRST RESPONDERS
On the 9th of June, it thanked a First Responder Day. Dural Brigade is made up of volunteers that dedicate their time and skills to the Fire service. Thank you to all the Dural members and families and all the wider RFS community.
DURAL RFS IS RECRUITING – READY TO MAKE A DIFFERENCE AS A NSW RFS VOLUNTEER?
There are many reasons to join the NSW RFS. You may want to protect your families, your friends, your home and your community. If you would like to join us please complete the application on the RFS website. https://www.rfs.nsw.gov.au/volunteer/Join-the-NSW-RFS