By Craig Hingston
Although 2021 will be remembered as a challenging year, because of the COVID pandemic and lockdown, New Hope School at Dural had plenty to be thankful for.
One reason to celebrate was the largest cohort of final year graduates. There was six Year 12 students in the Class of 2021 and most had been at the school since its launch in 2015. Another reason to be grateful is the new bespoke-designed facilities being constructed next door. The multi-building site features a unique 'community-style environment' to benefit the students and it will open its doors in early 2022. By the final stage it will have space to accommodate three times more students.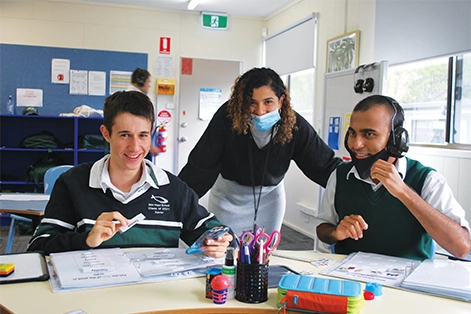 The Director of New Hope School, Dianne Dowson, said she is grateful for the work experience opportunities that were made available for the Year 12 students, both on the campus which it shares with Pacific Hills Christian School, and with external providers. These were an important part of preparing the students for life after school.
She added that the disruptions did not deter the students from helping children in poor nations. They prepared boxes full of gifts and practical items for the Samaritan's Purse Christmas Box project and continued to support their sponsor child.
"I am very grateful for the support of our parents during lockdown. We naturally partner with them in the ongoing education of their children and when lockdown came along they all contributed so much to enable our students to continue their studies. Looking back over the year I am also deeply grateful for the dedication of our staff and their unbounded care, compassion and support."
New Hope School caters for children who have an Autism Spectrum Disorder or mild to moderate intellectual delay.
9-15 Quarry Rd, Dural NSW 2158 Australia
General Email: 

[email protected]



Enrolment Enquiries: 

[email protected]



Main Phone: (02) 9651 0700

Main Facsimile: (02) 9651 3513