By Lawrence Machado

Castle Hill star Eva Founties is the newly-crowned NSW Women's Junior International Athlete of the Year and NSW Junior International Division women's artistic gymnast champion.
The classy Castle Hill Gymnastics Club member trumped her rivals at NSW Women's Artistic Gymnastics Championships' Junior International Division held recently at the Sydney Gymnastics and Aquatic Centre.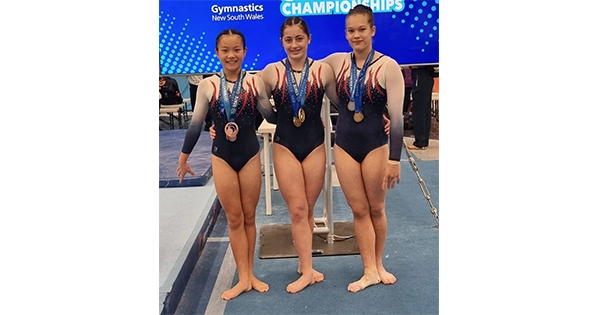 Eva, 15, scored a superb 46.35 points in the 2022 championship to bring home the club's latest state title. Eva was also presented with the Junior International Athlete of the Year Award based on last year's results.
It was another successful haul for Castle Hill Gymnastics Club and their long-time coach Zoltan Mirko with Sophie Finegan, 17, and Yun Ni Wong, 14, also medalling in the Senior State Championships. In all, the star trio brought home 11 medals to underline the amazing record the club has in state championships over the years.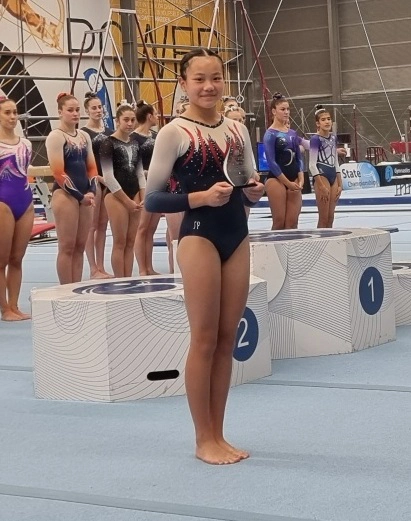 Outstanding Dural local Yun Ni received the prestigious NSW Women's Artistic Junior International Development Athlete of the Year Award for her remarkable achievements. She was very impressive in her three medal events at the state titles too. Yun Ni took bronze in the seniors allround category, after finishing third in the vault (11.9), balance beam (10.65) and floor (12.7) to finish with a score of 45.85.
Sophie, of Turramura, has been outstanding over the years, and continued her form. She was first on the uneven bars (scoring 11.9), followed by second on the balance beam (11.2).
Coach Zoltan Mirko, who has been coaching for 33 years, was delighted with the results.
"The state competition results weren't a surprise," Mirko said. "We had two very successful senior state trial competitions in the last five weeks, so we knew our girls were looking for a good state championship. These girls have been training at Castle Hill Gymnastics for more than eight years, having started their gymnastics careers here."
Mirko said his charges had missed out on competing for Australia for the past two years due to Covid-19 so they are now eager to showcase their skills at the nationals at the Gold Coast from May 20-22. There are nearly 100 women artistic gymnasts in the competitive program, from ages 5 through to 17 years, at Castle Hill Gymnastics Club.
Mirko has been working as the women' artistic gymnastics head at Castle Hill Gymnastics Club since 2014. He is proud of what he and his team have achieved.
"We've built up the program since then," he said. "Our first generation of gymnasts are Sophie and Eva, and we have lots of very talented young girls in our program.
"Our next major event is the Australian National Championships, and because of Covid, we haven't got an opportunity to represent Australia in the last two years and nothing for 2022 for this age group," Mirko said.
"Our goal is to win as many medals as possible at the Nationals and at the Australian National Club Carnival, also on the Gold Coast in September."