By Annaliese Vella
There aren't many things stronger than the will of a young, passionate and driven boy – which is evident in Nick Follows. On Mother's Day (9 May), Nick, a 14-year-old Oakhill College student from Kenthurst, found himself in a freak accident when a kangaroo entered the track at Lithgow City Raceway during a competitive race and collided with him at a speed of 80km/hr.
With the prompt response from the medical team at the Raceway and Ambulance Paramedics, Nick was swiftly airlifted by CareFlight to The Children's Hospital at Westmead, where he was miraculously cleared of any spinal or head injuries, credited by doctors to his safety gear.
Nick returned home just three days later with just two broken fingers. While his race suit and go-kart may have been left in tatters, Nick spirit and love of the sport remains firmly in tack.
"I know it was a one in million accident, and I don't have any fear about getting back behind the wheel. I want to continue to pursue racing as a career, so the sooner I can get my kart ready to race, the better," said Nick. freak collision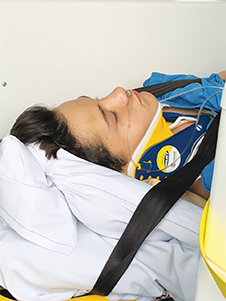 With consistent podium finishes in his 12-month go-kart racing tenure, Nick is gearing up to take his place in the driver's seat once again, by participating in the Grand Prix for Bandaged Bear, a charity go-kart race operated by the Sydney Children's Hospital at Westmead taking place this Friday (25 June).freak collision
Meanwhile, the budding professional driver is in the process of rebuilding his damaged kart and replacing all equipment that was destroyed in the accident – a cost totalling in the tens of thousands of dollars. freak collision
Nick is seeking corporate sponsors to help him re-enter the track safely so that he can continue to pursue his passion for motorsport. freak collision
If you can help Nick, please contact: [email protected]